You Reliable Floor Transition Strips Supplier
NIUYUAN Flooring Transition Strips offer practical and innovative solutions for a wide range of residential and commercial application needs. Our product line includes products made from top-quality materials, all carefully engineered for unparalleled performance and style.
Flooring profiles are available in a variety of widths and depths. Aluminum profiles, drilled or with adhesive, for sealing, joining, or splicing carpet, PVC, linoleum, tile, or wood floors.
Movable profiles for the technical joining of marble, terrazzo, and Palladiana floors need to be polished after laying—profiles in various widths for tile and stainless steel for covering joints and thresholds. Profiles can be polished in situ or bent/formed to create original decorative designs. They offer unlimited solutions for interior and exterior finishes, even for heavy loads and frequent traffic.
General

Hot Selling

Floor Transition Strips
Find the rights Stair Nosings below for your business; All of our products are provided with up to 2 year warranty.
The Floor Transitions collection includes a wide range of end transition profiles for joining different levels of flooring, ranging from 7 to 22 mm thick. There are 7 anodized finishes to choose from. Each height has a profile (top) and a pin (pin), while the base (perforated or pierced) can be fixed with screws or glue.
Floor Threshold Transitions
Floor threshold transition self-adhesive is an anodized joint/threshold cover profile available in a variety of color finishes for customization with high resistance to foot traffic, abrasion, UV, and common floor cleaning products. Easy to lay and can be matched to any wood and tile flooring. Recommended for covering joints between laminate, wood, tile, and another type of flooring.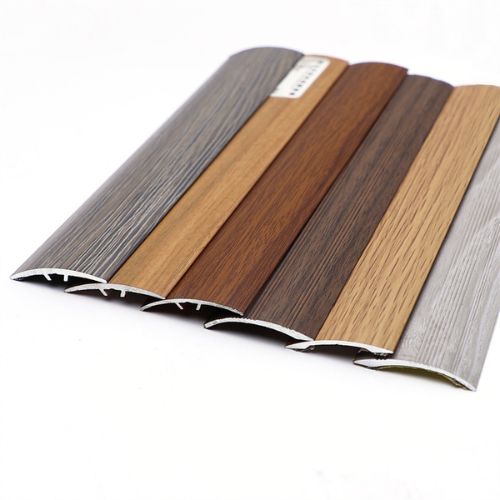 Wood Grain Floor Transitions Strips
Wood Floor Transitions Self-Adhesive is a joint/threshold cover profile covered with aluminum film and available in 12 wood effect finishes with high resistance to pedestrian traffic, abrasion, UV light, and common floor cleaning products. Easy to lay and match any wood finish with an open-hole embossed surface finish. Recommended for covering joints between laminate, wood, tile, and another flooring.
Flooring Terminal Transitions
The floor termination transition is an inclined termination transition profile designed to connect floors of different heights in a perfectly stepless manner. This particularly robust profile is able to withstand and support high loads as well as the frequent passage of manual trolleys and vehicles, in addition to protecting the edges of higher floors. It is particularly suitable for attaching tiles or wood to existing floors. Available in natural and anodized silver aluminum, it is available in different heights to accommodate a variety of different levels.
Floor Transitions In Doorways
Floor Transitions in doorways is around transition and edge profile in anodized aluminum. It is ideal when joining and compensating horizontal differences between already laid floors and floors of different or identical materials (e.g. tile-wood floors). Thanks to its rounded shape, it can compensate for thickness differences of 7 to 13 mm when the profile is not installed at the time of laying. The product ensures a perfect surface finish and is easy to lay, and its self-adhesive backing guarantees perfect adhesion to the floor.
Wanna dig deeper into NIUYUAN floor transition?
There are more than 120 items in this catalog, you can leave us you email here and our experienced engineer will contact with you within 24 hours.
Custom Floor Transition Strips
As a leading manufacturer of customized floor transition strips, NIUYUAN takes pride in providing high-quality products that enhance the aesthetic appeal and functionality of your space. Our skilled professionals have years of experience and work closely with you to create a product that meets your specific needs.
At our state-of-the-art NIUYUAN manufacturing facility, we utilize cutting-edge technology and sustainable processes to create our high-quality floor transition strips. Our commitment to environmentally friendly practices ensures that we reduce waste and minimize our carbon footprint, making NIUYUAN the go-to choice for businesses and homeowners looking for sustainable solutions.
NIUYUAN offers a wide range of materials and finishes, including aluminum, brass, stainless steel, and more. Our finishes include polished, brushed, and anodized, giving you flexibility in selecting the perfect option for your decor. We pride ourselves on our expertise in production technology, sustainable manufacturing practices, and commitment to customer satisfaction, which sets NIUYUAN apart from our competitors.
One-Stop Floor Transition Strips Custom Services
15+ Years of Experience. High Precision and OEM Design. Professional R&D Team. Competitive Price.
We invite you to visit our factory and see how our floor transition strips are manufactured. Please get in touch with us to schedule a tour. We look forward to welcoming you!