Carpet Transition Strips Manufacturer
NiuYuan Trims Series Carpet Transition Strips is a profile made of anodized aluminum, available in 2 styles, one for the transition between tile and carpet, and the other as a terminal profile for carpet floor edges. It can speed up the laying time and make the laying effect more beautiful.
General

Hot Selling

Floor Transition Strips
Find the rights Stair Nosings below for your business; All of our products are provided with up to 2 year warranty.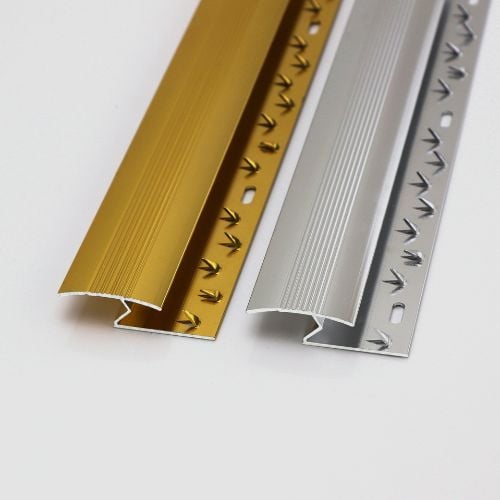 Z Bar Carpet Transition Strip
This Z carpet edging is used to join carpet and laminate/wood/LVT flooring with a height difference of up to 13mm. This threshold rail provides a neat and attractive finish in doorways and other unprotected areas where your carpet is attached to tile or laminate/wood flooring. The metal threshold section can be gently trimmed with a rubber mallet to ensure a tight fit with the edges of both floor coverings.
Carpet to Carpet transition strip
NIUYUAN Carpet to Carpet transition strip helps secure your new floor in place. Perfect for carpeted rooms, they fit flat against the floor at the doorway, providing a secure and stylish connection between rooms. Choose aluminum door rails for unparalleled quality and great looks. A strong and sturdy material, it is the traditional choice for carpeted door rails. Sturdy handles on either side of the double aluminum door rail ensure a strong hold on carpet and flooring, so you know you're getting lasting quality.
Single Edge Carpet Metal Threshold Strips – Connects carpet to provide a neat and attractive finish in doorways and other unprotected areas where the carpet is attached to another flooring such as stone, marble, ceramic, vinyl, or linoleum.
For example, this door rail trim is ideal for connecting carpet to vinyl flooring. Exclusive colors such as gray, black bronze, or gold are also available. We would recommend gray, as it is by far the most modern color.
Carpet to Tile Transition Strip
This is an anodized carpet to tile transition joint strip that perfectly bridges carpet and tile. The surface specifically comes with a non-slip design to bring safety to pedestrians.
Many different color customizations and finishes are available, so hurry up and contact us.
Carpet to Floor Transition Strip
NIUYUAN Designer modern floor Z-bar trims for connecting carpet to flooring with a maximum height difference of 13mm. These prestigious door bars look great with thicker than normal metal trim in grey, brushed aluminum, brushed silver or matte silver, or chrome.
Ideal for connecting carpet to wood/laminate/tile/ceramic flooring.
Wanna dig deeper into NIUYUAN carpet transition?
There are more than 120 items in this catalog, you can leave us you email here and our experienced engineer will contact with you within 24 hours.
One-Stop Carpet Transition Strips Custom Services
15+ Years of Experience. High Precision and OEM Design. Professional R&D Team. Competitive Price.
Your Success Business Starts Here
After you fill out the form, a carpet transition strip specialist will reach out to you within 24 hours.
The first objective will be to understand your needs, then together develop a plan for business and provide you with the best pricing for you!